Obama's three-day jobs tour: Did he connect with rural America?
Obama's three-day bus tour of the Midwest wrapped up in front of mostly friendly audiences in small rural Illinois communities. The president talked of jobs, political pledges, and county fairs.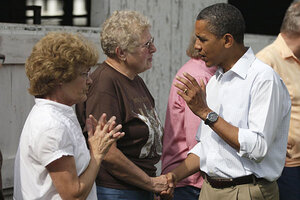 Carolyn Kaster/AP
Nearly 1,000 US flags lined the streets Wednesday of Atkinson, Ill., more than there are people who actually live in the surrounding houses. This small rural community (pop. 972 in 2010) on the state's far western edge was one of two final stops for President Obama's three-day bus tour of the Midwest.
The trip had the appearance and feel of a campaign tour in the throes of election season even though the president refused to mention any of his potential Republican foes by name and composed his criticism in more general terms, choosing to complain of hostile politics rather than hostile individuals.
Mr. Obama, who has used the trip to sound out voters on the economy, talked Wednesday to mostly sympathetic audiences of wanting to ease patent restrictions for entrepreneurs, opening up jobs for rebuilding infrastructure, and helping US companies to export more goods overseas, but framed these actions as challenged by Washington politics.
"The fact is this," Obama said. "All these things I just mentioned, historically they had bipartisan support.… There's no reason not for us to act right now."
In a question-and-answer session at a town hall meeting, an audience member asked him of the pledges by some Republicans to not raise taxes, to reduce the deficit, and to stand firm against gay and abortion rights. The moment allowed Obama, in rolled-up shirtsleeves and standing against tall banks of farm pallets in the warehouse of a corn seed company, to draw a line between his office and those circling to fill it.
"I took an oath. My pledge is to make sure every day I'm waking up looking out for you, the American people. So I don't go around signing pledges," he said.
---