Congress, spooked by summer town halls, tries jobs fairs instead
The health-care reform protests of 2009 have made members of Congress worried about holding traditional summer town halls. As an alternative, some are holding jobs fairs.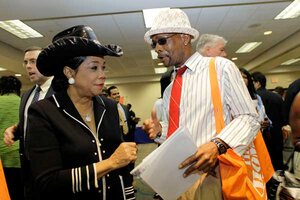 Lynne Sladky/AP
With unemployment locked in double digits in many congressional districts, the defining political event of the summer for many members of Congress is becoming the jobs fair, sponsored by lawmakers to connect constituents with actual hiring prospects.
The concept has taken off with conservative Republicans as well as liberal Democrats serving some of the poorest communities in America.
The political advantages are two-fold: The events cast members as doing something about the nation's jobs crisis while at the same time shielding them from public confrontations with angry voters. It means town-hall meetings – once a staple of the congressional summer season – are now in decline thanks to the testy summer of 2009, when health-care protests helped launch the tea party movement and provided endless grist for opposition campaign ads.
The new formula is one that leaders on both sides of the aisle are encouraging other colleagues to pursue. But some public-interest groups charge that jobs fairs are no substitute for the face-to-face contact essential in a democracy.
"Our concern is that elected officials are only hearing from their respective partisan bases and will not expose themselves to criticism. Politics is about competing ideas, and everyone should have a seat at the table," said William Galston, a cofounder of No Labels, an independent group promoting bipartisanship in Washington, in a statement.
About half of Republicans and two-thirds of Democrats said that they had no town-hall meetings scheduled over the August recess, according to a survey released Aug. 21 by No Labels.
---