How new redistricting maps could reshape California politics
California handed redistricting to a nonpartisan commission to help break the state's chronic gridlock. The new political maps, it is becoming apparent, could do more than that.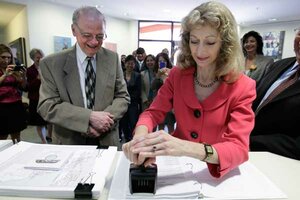 Rich Pedroncelli/AP
One month after a nonpartisan California redistricting commission finished its work, it is becoming clear that the new political maps could create significant upheaval in California politics.
This was partly why voters chose to create them through two separate ballot initiatives. Analysts have long suggested that the state's legislative gridlock is due in large part to the partisan way districts have been drawn in the past.
But as lawmakers and political scientists more closely scrutinize the state and congressional maps, released on July 29, they see other effects, such as potentially diminished state clout on Capitol Hill and a surge of inexperienced legislators in Sacramento.
For California, it could mean increased influence for lobbyists in the Capitol and the possibility that Democrats reach the two-thirds supermajority needed to raise taxes. For the rest of America, it is a fresh lesson in how nonpartisan redistricting commissions like the one in California can reshape the political process. California is one of 12 states to use them.
The main effects of the maps will be threefold, experts say:
---