Mitt Romney's tough call: Court the tea party to counter Perry surge?
With presidential hopeful Rick Perry now leading polls of GOP voters by double digits, Mitt Romney is having to pivot toward the tea party, which is not his natural constituency.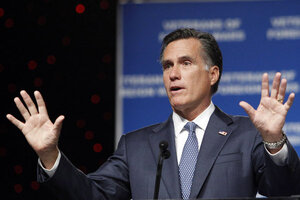 Eric Gay/AP
Former Gov. Mitt Romney (R) of Massachusetts always knew he would have to kick up his presidential campaign up a notch, but it's happening a little sooner than expected. The reason: the Perry surge.
Suddenly, Gov. Rick Perry (R) Texas is leading polls of GOP voters by double digits, knocking Mr. Romney out of the top spot. Now it's game on, and Governor Romney is moving out of his comfort zone to address tea partyers – not his natural constituency – and go on the attack (albeit veiled) against Governor Perry.
On Sunday, he will address a tea party rally in Concord, N.H., and the next day, will fly to South Carolina for a candidate forum hosted by the influential Sen. Jim DeMint (R) of South Carolina that Romney had originally decided to skip.
Deep red South Carolina is not considered Romney territory, but its primary is one of the earliest on the calendar, and Romney can't cede that ground to the other candidates so soon and so easily, says Chip Felkel, a Republican strategist based in Greenville, S.C.
"He can't lose by 20 points here," says Mr. Felkel, who is unaligned in the primary. "You've got to show the flag a little bit."
---