Dream Act: California embraces anti-Arizona role on illegal immigration
The California Senate passed its version of the Dream Act this week, setting itself up as a leader among states addressing illegal immigration with greater sympathy.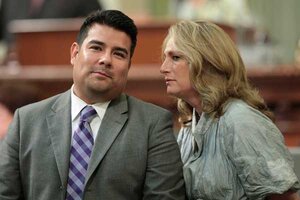 Rich Pedroncelli/AP
With the Obama administration and Congress stalled on immigration reform, California has joined the growing parade of states acting on their own to pressure Washington into action.
The Democrat-controlled state Senate on Wednesday night passed its version of the Dream Act – a bill that would allow illegal immigrants who attended state high schools for three or more years to apply for state-funded college financial aid. The federal version of the bill, which was most recently defeated in December, allows a path to citizenship for illegal-immigrant students and members of the military who were brought to the US as children.
The California Senate vote is a sign that the immigration debate at state level is being driven as much by those sympathetic to illegal immigration as those determined to curtail it, says Catherine Wilson, an immigration analyst at Villanova University in Pennsylvania.
---