Obama drops smog plan: Is it all about the presidential election?
Environmentalists say President Obama is dropping a plan to set new air-quality standards with one eye on on the presidential election. The administration says it is waiting for more research.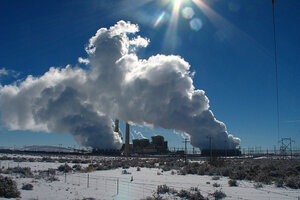 Mark Richards/ZUMA Press/Newscom/File
Following a dismal jobs report Friday, President Obama announced that his administration would not implement a new clean-air standard to reduce smog.
The move to halt the new air standard marks a sharp departure from the president's agenda of tightening national air-quality standards.
Friday's action drew immediate and uncharacteristic plaudits from industry groups – who say the regulation would stifle job growth – and howls from environmentalists.
"We're deeply disappointed that the administration has chosen to leave in place outdated standards that lag far behind what scientists have unanimously recommended," said Fred Krupp, president of the Environmental Defense Fund, in a statement. "This unfortunate decision puts millions of Americans, particularly children, at risk from industrial pollution."
Setting a new National Ambient Air Quality Standard for ozone, or smog, as required under the Clean Air Act, was supposed to happen this fall. The move was the Obama administration's response to standards first proposed under the Bush administration in 2006.
But the White House on Friday pulled in the reins on Environmental Protection Agency Administrator Lisa Jackson, who had planned to unveil the new standards this fall.
"I have continued to underscore the importance of reducing regulatory burdens and regulatory uncertainty, particularly as our economy continues to recover," Mr. Obama said in prepared statement. "With that in mind, and after careful consideration, I have requested that Administrator Jackson withdraw the draft Ozone National Ambient Air Quality Standards at this time."
---