What will Obama say about jobs? The pre-speech maneuvering begins.
In the run-up to his much-anticipated jobs speech Thursday, Obama challenged the GOP to put 'country before party.' The Republican response: 'Your economic proposals don't work.'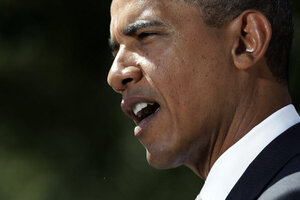 Carolyn Kaster/AP/File
President Obama and congressional Republicans have begun maneuvering for political position prior to Obama's much-anticipated speech Thursday on jobs and the economy.
Obama has dropped only a few hints as to what the speech will say. In a Labor Day address in Detroit he indicated that it would include a push for more federal funding for road and bridge construction, and an extension of the current payroll tax reduction.
But his main message in Detroit was this: if it doesn't pass, it will be the Republicans' fault.
"We're going to see if we've got some straight shooters in congress. We're going to see if congressional Republicans will put country before party," Obama told a largely Democratic crowd. "We'll give them a plan, and then we'll say, do you want to create jobs? Then put our construction workers back to work rebuilding America."
This did not sit well with the Senate's top Republican, minority leader Mitch McConnell of Kentucky. In remarks prepared for delivery on the chamber floor Tuesday he bristled at the implication that it would be unpatriotic to not support Obama's proposals.
"With all due respect, Mr. President, there's a much simpler reason for opposing your economic proposals that has nothing to do with politics: they don't work," said Senator McConnell.
McConnell noted that Washington does not feel the rest of the country's economic pain. Its economy is booming, as the federal government gets bigger and bigger, he said.
---