Texas wildfires: Is Rick Perry being hypocritical asking for federal aid?
Texas wildfires are forcing Gov. Rick Perry to walk a philosophical tightrope. A strong advocate for a smaller federal government, he's chiding the Obama administration for not helping more during the Texas wildfires.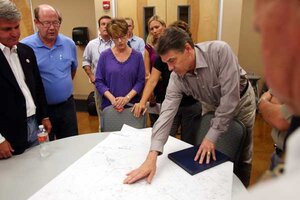 Alberto Martinez/AP
Texas Gov. Rick Perry, currently a GOP front-runner for next year's presidential nomination, left the campaign trail in South Carolina to return to Texas to command what's become an epic battle against dozens of major runaway wildfires.
Since December, some 21,000 Texas wildfires have burned 3.6 million acres and claimed more than 1,500 structures, including nearly 1,000 over Labor Day alone as a 14-mile-wide fire burned across Bastrop County, 25 miles east of Austin. The fire instantly became the most destructive in the state's history as it joined dozens of other major conflagrations cutting across over 100,000 acres in bone dry central Texas.
While the Texas wildfires provide an opportunity for the only sitting governor in the presidential race to display his leadership bona fides, the disaster is also leaving Governor Perry open to charges of hypocrisy from the tea party movement. Some small-government advocates are asking why Perry, a states' rights proponent and critic of federal power, is berating the Obama administration for dragging its heels in sending federal taxpayer money and resources to Texas.
In the short run, Perry's ditching the campaign for the emergency command in Austin could help him contrast himself with other candidates, including Obama. But at some point, the campaign may have to explain the philosophical contradictions between Perry's ideological view of federal power and his more practical willingness to rely on federal largess to solve the state's fire problem.
---