Obama jobs speech: 'Time to stop the political circus'
In his speech to a joint session of Congress, President Obama proposed a $447 billion "American Jobs Act" to help those 14 million Americans out of work. Can he convince Republicans to vote for it, and will it help his own tough re-election bid?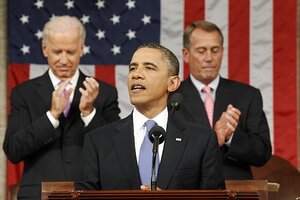 Newscom
With the nation's economy in a particularly rough patch and his own re-election prospects in doubt, President Obama told Congress it's time to "stop the political circus and actually do something to help the economy."
"The people of this country work hard to meet their responsibilities," Obama told a joint session of Congress. "The question tonight is whether we'll meet ours."
Specifically, the President offered a $447 billion "American Jobs Act" designed to help those 14 million Americans out of work. It includes extending the payroll tax cut, extending jobless benefits, a "returning heroes" hiring tax credit for unemployed veterans, a $4,000 tax credit for hiring long-term unemployed workers, $35 billion to keep laid-off teachers and first responders in their jobs, and some $100 billion to be spent on major school construction and infrastructure renovation.
"The purpose of the American Jobs Act is simple: to put more people back to work and more money in the pockets of those who are working," Obama said. "It will create more jobs for construction workers, more jobs for teachers, more jobs for veterans, and more jobs for the long-term unemployed."
"It will provide a tax break for companies who hire new workers, and it will cut payroll taxes in half for every working American and every small business," he said. "It will provide a jolt to an economy that has stalled, and give companies confidence that if they invest and hire, there will be customers for their products and services."
"Everything in this bill will be paid for," Obama insisted. "Everything."
To do so, he proposes closing corporate tax loopholes and increasing the tax bite on the wealthiest Americans – that alone guarantees a fight with congressional Republicans – as well as challenging his deficit reduction panel (which met for the first time Thursday) to go beyond its $1.5 trillion goal.
---