Why North Carolina vote to ban gay marriage might help Obama
North Carolina's Republican House could have put the gay-marriage ban on the November ballot, when it might have boosted the vote for President Obama's Republican challenger. Instead, the House scheduled it for May.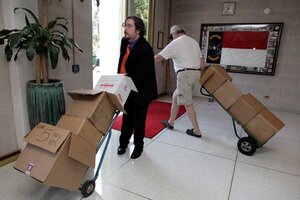 Ted Richardson/AP
The North Carolina House voted Monday to allow a May referendum on whether to enshrine a ban on gay marriage in the state constitution.
North Carolina already has a law defining marriage as being between a man and a woman, but supporters say making the ban part of the state constitution will make legal challenges more difficult. North Carolina is the only state in the Southeast without a constitutional ban on same-sex marriage.
The timing of the ballot measure is significant. Critics of the measure had charged that the Republican-led legislature would schedule the referendum for next November to try to boost conservative turnout during next year's presidential election. President Obama won North Carolina in 2008 by a thin margin.
But House Speaker Thom Tillis (R) told reporters Monday he is "reasonably confident" the referendum will go to voters in May – a signal, he said, that the legislature was not playing politics. The May date, however, coincides with the Republican primary and could boost conservative candidates like Texas Gov. Rick Perry or Rep. Michele Bachmann of Minnesota.
"Putting it in the May primary puts the [gay marriage] debate within the Republican Party, so it's likely to solidify the party's rightward tilt," says Ferrel Guillory, director of the Program on Public Life at the University of North Carolina in Chapel Hill.
The bill now goes to the Senate for approval.
---