In countering Obama on jobs plan, Boehner gives hint of compromise (VIDEO)
While Republicans and Obama are still far apart on how to create new jobs, Boehner signals the possibility of agreement on new infrastructure spending.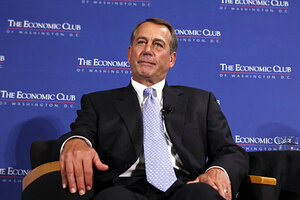 Kevin Lamarque/Reuters
Responding to President Obama's "Pass this bill!" jobs offensive, Speaker John Boehner of Ohio said Thursday that the House will consider the president's $447 billion jobs package, and signaled a possibility of agreement on new infrastructure spending.
But Republicans and the Obama White House are committed to sharply different visions on how to boost jobs in the current downturn.
The president's plan recycles elements of his 2009 stimulus bill, including aid to states and the unemployed and new infrastructure spending. But Mr. Boehner, in his most detailed response to the president's jobs plan to date, focused Thursday on easing the burden of government regulation on businesses and opposing tax hikes.
"The president's proposals are a poor substitute for the pro-growth policies that are needed to remove barriers to job creation in America," he said at an address before the Economic Club of Washington, D.C.
Boehner, who faces strong conservative opposition in his own ranks to new government spending, blamed government regulation – "micromanaging, meddling, and manipulating" – for creating a toxic environment for job creation.
He called on the Obama administration to disclose cost estimates for 219 pending new rules – such as controls on emissions of greenhouse gases – expected to each cost the economy at least $100 million. Seven of these new rules will have an economic impact of $1 billion or more, he said.
---
Follow Stories Like This
Get the Monitor stories you care about delivered to your inbox.