Obama says 'Pass this jobs bill.' But what's actually in the bill?
There's a lot in President Obama's 200-page bill for Congress and the public to chew over. Here's a look at the main points in Obama's American Jobs Act.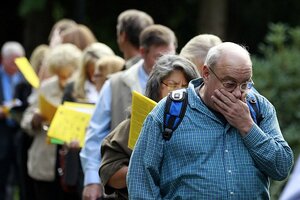 Rick Bowmer/AP
President Obama used his weekly address to the nation to pound the same terse message that he's been repeating all week -- that Congress should act quickly on his recent proposals for job creation.
"It's a jobs bill that does two simple things: put more people back to work, and more money back in the pockets of people who are working," Mr. Obama said in his Saturday address. "You can help make it happen by telling your congressperson to pass this jobs bill right away."
But there's a lot in this 200-page bill for Congress and the public to chew over.
RECOMMENDED: Seven ways to reenergize your job search
The plan's main features, which Obama sketched in his Saturday remarks, are payroll tax cuts and investments in things like roads and schools.
Less-publicized steps include everything from experiments in job training to a provision designed to prevent discrimination against the unemployed.
Here's a look at the main points in the American Jobs Act.
The cost
• Higher federal deficits. OK, this isn't the first thing on the White House fact sheet, but it's important to note that this means a bigger deficit in 2012. In so-called Keynesian models of the economy, it's not a bad thing. The idea is that by spending money or cutting taxes at a time of economic weakness, government policy can help revive economic growth. Obama's initial $787 billion Recovery Act – with features similar to his new $447 billion bill – was supported in general by mainstream economists on that theory.
Although many say the initial stimulus program helped, there's plenty of debate today among economists about whether the economy will benefit from a new round of temporary spending and tax cuts.
---