Can Obama turn it around?
A feistier President Obama has emerged as he makes the case for his jobs bill. But will campaigning for a plan that faces dim prospects with Republicans be enough to save his presidency?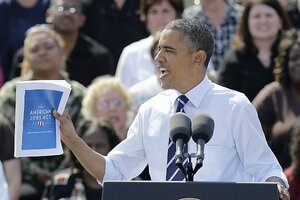 Tony Dejak/AP
Sometimes in politics, style matters as much as substance. Texas Gov. Rick Perry has shot to the top of the Republican presidential field as much on his charisma as on his record.
So, too, a feistier, more aggressive President Obama has emerged since Labor Day, as he makes the case for new spending to promote job creation and tax increases to pay for it. Gone are the compromises he was willing to make in July over cuts to Social Security. And when he unveils his deficit reduction plan on Monday, he is expected to propose tax hikes on millionaires – a populist gambit that will at least satisfy his Democratic base.
But will campaigning enthusiastically for a plan that faces dim prospects in a Republican-controlled Congress be enough to save his presidency?
RECOMMENDED: Six reasons why America can't create jobs
"He has to get what he can, campaign in a very focused and determined way, and hope that the economy shifts a little bit in his favor," says William Galston, a former domestic policy adviser to President Clinton.
Obama was noticeably energetic in his Sept. 8 address on jobs before a joint session of Congress. His bigger-than-expected $447 billion package includes spending on infrastructure, an extension of the payroll tax cut and unemployment benefits, aid to states to prevent teacher layoffs, and tax credits for employers who hire veterans and the long-term unemployed.
---