How Democrats' anger at disaster funding helped doom House spending bill
Conservative Republicans joined the Democrats in opposing the spending bill, whose defeat revives the threat of a government shutdown. A way forward for House leaders is unclear.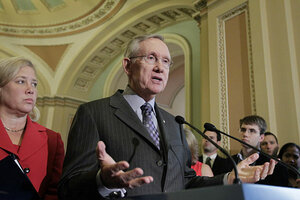 J. Scott Applewhite/AP
A stop-gap spending plan to keep the government running through Nov. 18 failed in the House Wednesday by a 230-to-195 margin, as Democratic support that the GOP leadership had counted on vanished in a dispute over disaster funding.
The failure, which threatens a government shutdown if no continuing resolution (CR) is approved by Oct. 1, sent GOP leaders scrambling for a fix that can muster a majority, but a way forward is not clear.
At the core of the Democrats' opposition to the funding plan was anger at House majority leader Eric Cantor's demand that the disaster funding be offset by cuts elsewhere.
But dismay over the disaster funding was not limited to the Democrats. While most GOP naysayers voted against the plan because they said it spent too much, others – especially those in districts recovering from natural disasters – said it spent too little.
"As we speak, people are back home in my district with hip boots throwing out their life's possessions," says freshman Rep. Lou Barletta (R) of Pennsylvania, who voted against the bill. "I want to get the most I can for people back home."
More than 50 GOP conservatives sent Speaker John Boehner of Ohio a letter last week threatening to vote down any measure that exceeded a rate of spending specified by the House's 2012 fiscal year budget passed in April. Most kept that pledge in Wednesday's vote.
House leaders typically don't bring bills to the floor and then lose. But Mr. Boehner has defined his speakership around the principle of allowing votes to "let the House work its will" – a stance that has helped manage the aspirations of a robust freshmen class, many elected with strong tea party support.
---