As Dow tumbles, how much is politics to blame?
Dysfunctional politics, both in Washington and in Europe, is spooking markets worldwide. While perhaps not as dangerous as the economic dysfunction of 2008, it is still a concern.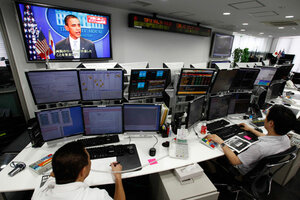 Shizuo Kambayashi/AP/File
With the Dow Jones Industrial Average down about 16 percent in two months, investment analysts are worrying aloud about the risk of a new recession, or even a full-blown financial crisis.
But there are big differences between now and 2008.
The most basic one is this: Back then, investor uncertainties revolved around the health of private-sector banks and a breakdown in private channels of credit to the economy. Today, the uncertainties are largely about politics – whether governments in Europe and the US are able to act in ways that restore private-sector confidence.
After taking a 4 percent dive on Thursday, US stock prices were relatively flat in Friday trading. But the Dow index is still down about 7 percent for the week, and stock markets in Europe have fallen even more.
Many economic experts say recession can be avoided. And the worry about a possible downturn is fueled partly by concerns about consumer activity that are distinct from the political debates in Congress or the German Bundestag. But a recent flareup of political dysfunction on both sides of the Atlantic has had clear ripple effects on the confidence of consumers and businesses.
Confidence 'eroded daily'
In the US, for instance, a Gallup poll index of economic confidence tumbled in July as Congress and the White House were wrangling over the terms of a bill to raise the nation's debt ceiling.
---