Senate to vote, again, on bill to fund government, disaster aid
The Senate is set to vote late Monday on a spending bill to keep government running. This one, like a version rejected Friday, does not resolve the sticking point: how to pay for new disaster aid.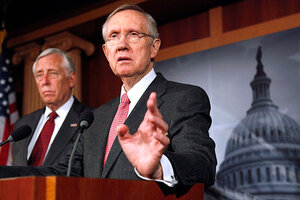 Jacquelyn Martin/AP
The Senate returns Monday for a late-afternoon vote on a stop-gap spending measure to fund government operations, including a compromise proposal on federal disaster assistance.
If the measure fails in either house, a government shutdown is possible by week's end. And even if it passes, the compromise may be too late to stop federal disaster funds from running out after Tuesday.
This is the third time since Republicans took control of the House in January that lawmakers are staring at a possible government shutdown. But unlike the previous two cases – a dispute last spring over $100 billion in fiscal 2011 spending and a battle over the summer about adding $2.7 trillion to the national debt – this standoff almost ranks as a rounding error.
"Suddenly, a bill that nobody should notice becomes another crisis," says Julian Zelizer, a congressional historian at Princeton University.
At issue is $1.6 billion of disaster relief – a tiny sum in the grand scheme of federal spending – that both Republicans and Democrats agree is essential. The dispute is over when and how to pay for it.
To recap: A new fiscal year begins Oct. 1. Congress has yet to pass a single spending bill for FY 2012. Unless Congress acts by Sept. 30, the government must shut down all but essential services. The Senate on Friday rejected a House measure to fund government through Nov. 18, by a bipartisan vote of 59 to 36.
---