Senate hits China for 'cheating' to steal US jobs
The Senate voted Monday to advance a bill that would punish China for manipulating its currency to drive exports. If it became law, the bill would risk a trade war over US jobs.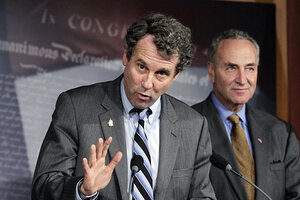 J. Scott Applewhite/AP
In a rare bipartisan vote, the Senate on Monday voted 79 to 19 to take up a bill that would punish China for manipulating its currency, risking a potential trade war with the economic giant.
Though prospects for the bill in the House are seen as uncertain, jobs lost due to competition with China is a blistering issue for voters, especially in the nation's industrial heartland.
The bill would impose tariffs on Chinese goods in response to China's policy of keeping its currency, the yuan, artificially low. The low value of the yuan keeps the price of Chinese goods low, giving them an advantage over American-made goods.
Since China joined the World Trade Organization in 2001, the US has lost 2.8 million jobs as a result of increased trade with China, according to the Economic Policy Institute. The cumulative US trade deficit with China over the same period amounts to more than $1.76 trillion, according to the 2010 report of the US-China Economic and Security Review Commission. The commission has highlighted the impact of currency manipulation in each of its annual reports to Congress.
"Jobs and wealth are leaving the US and going to China, because China cheats," said Sen. Charles Schumer (D) of New York, in comments to reporters after the Oct. 3 vote. With its currency edge alone, "China grabs for itself a 30 percent advantage."
But critics, including business groups that benefit from trade with China, say that the Senate bill could set off Chinese retaliation that could damage US exports in a critical market.
---