'Occupy Wall Street': If protesters don't list demands, will they get anything?
With new recruits emerging daily and union members joining marches, 'Occupy Wall Street' is experiencing growing pains. Should it prioritize goals? Should it forge alliances?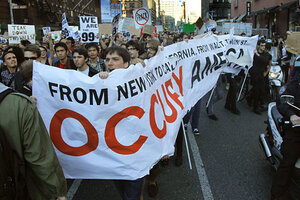 Bebeto Matthews/AP
On the eve of a huge solidarity rally planned Thursday for Freedom Plaza in Washington, and with new recruits emerging daily across the nation, the emphatically diverse "Occupy" protest movement is already facing a Shakespearean-level dilemma: To be or not to be specific about its demands.
If it refuses to spell out actionable agendas, will it get anything at all? Ay, there's the rub.
"Occupy Wall Street" has listed virtually every progressive concern of the early 21st century in its current manifesto – from environmental degradation and corporate greed to animal rights and gender, race, and age equality, as well as collective bargaining rights. Now a new item has emerged, listing access to higher education as a basic human right, perhaps not surprising considering the youthful face of the movement.
Such idealism is all well and good for a protest moment, but not enough for a genuine movement, says Professor Ted Morgan of Lehigh University in Pennsylvania, author of "What Really Happened to the 1960s: How Mass Media Failed American Democracy."
"For this to move from a colorful, attention-grabbing protest, they are going to have to reach into communities, connect with workplaces, churches, schools," he says. "That's how you build organizations that create change.
---