Why Democrats proposed a 5% surtax on millionaires that won't pass
With Republicans against higher taxes, there's virtually no chance that a surtax on millionaires will pass Congress. But there are strong political reasons for Senate Democrats to put it on the table.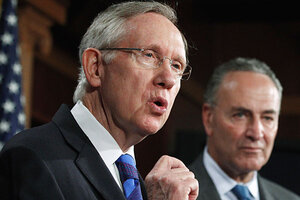 Manuel Balce Ceneta/AP
Senate majority leader Harry Reid on Wednesday proposed a 5 percent surtax on income above $1 million to pay for President Obama's $447 billion jobs plan.
The move appears to be more a bid to shore up support in Senator Reid's Democratic ranks than an attempt to pass legislation. With Republicans opposed to tax increases, the Senate's revision of Mr. Obama's plan is unlikely to ever become law.
But it protects vulnerable incumbents from votes that could haunt them next November, when 23 Democratic senators face reelection. The White House proposed offsetting all the costs for the jobs package by raising taxes on families earning more than $250,000 a year, as well as ending tax breaks for oil and gas industry and other business tax breaks. For Democrats in high-income or energy states, that was a nonstarter.
Democratic Sens. Ben Nelson of Nebraska, Jon Tester of Montana, and Claire McCaskill of Missouri, all up in 2012, are on record opposing the jobs bill as currently drafted. Others, such as Sens. Mary Landrieu of Louisiana and Mark Begich of Alaska opposed ending tax breaks for oil and gas companies.
---