Occupy Wall Street: Can it ever match tea party clout?
Economic conditions have seemed ripe for a popular uprising from the left, and now 'Occupy Wall Street' protests are marshaling those forces. But so far the tea party has greater focus and intensity.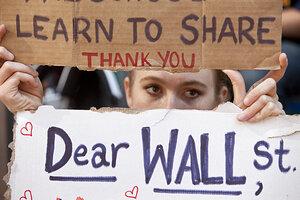 Melanie Stetson Freeman/Staff
Not long after the anticorporate "Occupy Wall Street" protests began in New York, one question surfaced repeatedly: Could this be the beginning of a liberal movement to counter the tea party?
Implicit in the question, however, is a concession that many even on the left acknowledge: For several years now, the right has largely driven and dominated the national conversation.
But why, amid America's worst economic crisis since the Great Depression, has the upwelling of political activism been greater on the right?
When the United States has been through periods of deep economic anxiety before, the populist movements that mobilize ordinary citizens against an empowered elite have typically pushed the national agenda to the left. A century ago, they backed the idea of a graduated income tax.
But now, at a time of high unemployment, record foreclosures, a significant jump in poverty, and concerns about a possible new recession, populist outrage has largely focused on government as a problem rather than a source of economic cures.
"In general, for the past few years the enthusiasm has certainly been more on the right end of the spectrum," says Michael Dimock, a polling expert at the Pew Research Center for the People and the Press. It's "an antigovernment movement more than an anticorporate movement."
Political analysts cite several reasons. Some of the activity is a backlash against the president. Since President Obama is a Democrat, it's more likely that opposition will rise up on the right.
---