Senate slap of China a sign that patience is wearing thin on trade
With jobs at a premium in the US, senators from states hard-hit by job losses to Chinese manufacturing passed a bill to sanction China for manipulating its currency.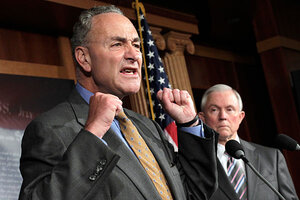 J. Scott Applewhite/AP
The Senate voted Tuesday to pass a bill that would sanction China for currency manipulation – a sign that the massive loss of manufacturing jobs, widely viewed as a result of unfair trade practices by China, can no longer be dismissed, especially by lawmakers representing hardest-hit states and districts.
Strong moves against the second largest economy in the world are not taken lightly in Washington, especially by a powerful free-trade lobby that has managed to block antifree-trade moves in the past.
The Senate bill authorizes punitive tariffs on nations deemed to have engaged in "protracted, large-scale intervention" in the currency exchange market – a provision seen as directed against China.
Like a similar measure voted in the House last year, the bill is not likely to become law. But the bipartisan support for the bill in the Senate shows that, in a time when US jobs are at a premium, patience with China is wearing thin.
"China has taken advantage of Americans in every way. Currency is at the top of the list," said Sen. Charles Schumer (D) of New York, a sponsor of the bill. "For the first time this body, in a bipartisan way, is saying enough is enough…. It's no longer competition over shoes, it's competition over the highest-end things we do."
On a monthly basis, the US imports about 640 percent more advanced technology products from China than it exports to China, according to the US-China Economic and Security Review commission. The US trade deficit with China accounts for more than half of the US trade deficit with the world.
Views on what is to be done to address this imbalance do not fall out on partisan lines. Senate GOP leaders urged a vote against the bill, and the Club for Growth, which funds primary challenges against Republicans not deemed conservative enough, is pressuring GOP lawmakers to oppose the currency bill.
---