Social media drive Occupy Wall Street. Do they also divulge its secrets?
Burgeoning cyberchatter about 'Occupy Wall Street' is creating an evolving database of raw information about the leaderless protest movement, a potential tool for those seeking to anticipate its next steps.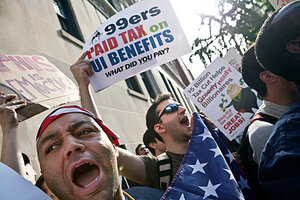 Andrew Burton/AP
Social media, a main engine driving "Occupy Wall Street's" spread, both nationally and globally, are increasingly serving another vital function: helping outsiders who are trying to track and anticipate the leaderless movement's next steps.
Every day, millions of tweets, posts, and texts swell the global chat around the topic, creating, in essence, a living and evolving database of raw information about the protest movement, its supporters, and its possible goals.
As this cyberchatter burgeons, more and more individuals – and organizations – are tuning in and trying to make sense of what they hear in order to formulate strategies and make decisions, say media analysts, researchers, and political strategists.
"People are listening," says Ronn Torossian, CEO of 5WPR, a New York PR agency. "When the president of the United States pays attention, this is no longer a fringe event. Digital chatter has reached a critical mass.''
But listening is easier than making sense of the avalanche of shifting information flowing through the social media universe, says Jonathan Askin, a professor at Brooklyn Law School.
---