Tax the rich: Should millionaires really pay more?
The fight over raising levies on the wealthy, a theme of the 'Occupy Wall Street' protests, is about more than money. It's a clash over fundamental American values.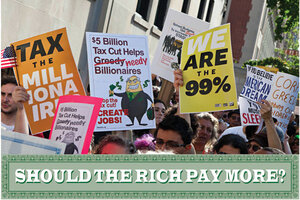 AP photo
Brennan McFarlane had never been to a protest before. On Sept. 17, the former Navy seaman from Mahwah, N.J., packed his rucksack with sheets and a blanket, unsure if he'd return home that night. Then he rode the train into Manhattan's financial district.
Activists from around the country were converging on Zuccotti Park for the first day of "Occupy Wall Street," a multiweek rally against greed. They brandished signs: "Democracy not plutocracy," "No war but the class war," and "I can't afford a lobbyist." Hundreds chanted, marched, and danced along Broadway. One woman in a birthday cake costume distributed anti-global warming fliers. A skateboarder in sunglasses and a pin-striped suit with a noose in place of a tie clattered along the park's southern edge.
Mr. McFarlane stood in the midst of it all with a neatly hand-lettered sign: "TAX THE RICH."
"I think taxing the rich and getting the rich out of politics is a central issue," explained McFarlane, who studies history at Montclair State University in Montclair, N.J. "If you fix that, you can fix other problems."
Many protesters felt the same.
"I'm here to get out the message: 'Shared sacrifice' is a polite way of saying 'Pay up!' " said Claudia Ford, an administrative assistant who works at a bank and lives on Manhattan's Upper West Side. "It's not about class warfare. It's about supporting our country."
---