Senate vote: first step toward dismantling No Child Left Behind
A Senate panel votes to drop a signature provision of No Child Left Behind, the Bush-era education reform. The new law would eliminate the mandate for 'adequate yearly progress.'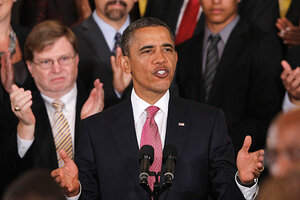 Charles Dharapak/AP/File
In a major course correction, a Senate panel on Thursday proposed taking nearly decade of school reform in a new direction by largely dismantling a controversial accountability system set up by the 2002 No Child Left Behind law.
The proposed new law retains a historic federal requirement that schools test students annually in math and reading – and publish the results of those tests, disaggregated by race, ethnicity, and poverty.
But it ends a federal requirement that schools demonstrate "adequate yearly progress" or proficiency for all students in math and reading by 2014 – a goal that now appears unattainable. Instead, it calls for states to adopt "college- and career-ready standards," with no federal timeline on the pace or scope of those standards.
It also derails ongoing moves to use test data to evaluate the effectiveness of teachers in helping students reach those goals, a move long resisted by teachers unions.
'It's clearly a major retrenchment of the federal role," says John Jennings, president and CEO of the Center on Education Policy, which has tracked the progress of No Child Left Behind (NCLB) since 2002. "It's an attempt to pull back from the provisions of NCLB and give states more flexibility, but it does leave in place the framework of a national accountability program."
---