Confederate license plate bid in Texas: How should Rick Perry respond?
Pressure is rising on Rick Perry to address a Texas agency's looming vote over whether to allow vanity license plates that feature the Confederate flag.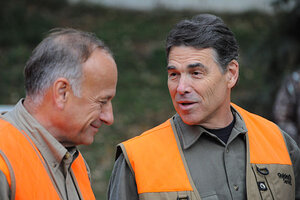 Dave Weaver/AP
Pressure is rising on Gov. Rick Perry (R) of Texas to address a state agency's looming vote over whether to allow vanity license plates that feature the Confederate flag.
Civil rights activists, including Rep. Sheila Jackson Lee, a democrat, joined several Texas state lawmakers this weekend in opposing the introduction of a Sons of Confederate Veterans vanity license plate.
The proposed plates feature the SCV logo, which depicts the controversial battle flag flown by the Confederate Army – a flag Ms. Jackson Lee calls "a symbol of fear and intimidation."
The row comes only a few weeks after national media reported on the West Texas hunting camp Mr. Perry once leased with his father that included a racial epithet in its name. And is raising questions about Perry's views on race at a time when the pace of the 2012 GOP campaign has quickened and become more heated.
Perry is now running third in most GOP primary polls behind businessman Herman Cain and former Massachusetts Gov. Mitt Romney. Perry led the pack briefly in September.
"People are trying to draw a line to get people to say something to embarrass themselves and cause a ruckus," says Michael Givens, the commander in chief of the Sons of Confederate Veterans, which is based in Columbia, Tenn. "Now, Rick Perry is up there and they want to embarrass him."
The SCV has successfully introduced similar vanity plates in nine states but has had to win several lawsuits to do so. In April, a Texas Department of Motor Vehicle board voted 4-4 on the SCV plate, setting the stage for a Nov. 10 vote when a previously missing member will cast the deciding vote.
Perry has yet to weigh in on the license plate issue, and he may well try to steer clear, says Cal Jillson, a political science professor at Southern Methodist University, in Dallas.
---
Follow Stories Like This
Get the Monitor stories you care about delivered to your inbox.