Obama looks to bypass Congress with help for homeowners, students
With the jobs bill stalled, Obama is bypassing Congress and using executive powers to enact change. Strapped homeowners and indebted students are first in line under his relief plan.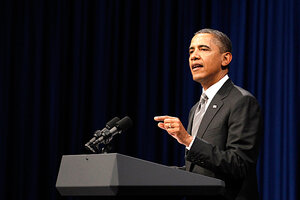 Jason Reed/Reuters
"Yes we can" is out. President Obama's new slogan: "We can't wait."
After the Senate blocked consideration last week of Mr. Obama's jobs proposal, the administration has moved to Plan B: bypass Congress and enact change via executive-branch measures. On Monday, the federal government announced new rules for some "underwater" homeowners, to make them eligible for lower interest rates.
The president will discuss the new program in a speech in Las Vegas Monday at 5:30 p.m., Eastern time. Nevada has both the highest unemployment (13.4 percent) and foreclosure rates in the United States, and it's a crucial swing state in next year's presidential election.
In the "We can't wait" initiative, the administration is "taking and highlighting a series of executive actions to show that we're doing everything we can do to get the economy moving to help middle-class families and create jobs," said Dan Pfeiffer, White House communications director, in a call with reporters.
At the same time, Mr. Pfeiffer said, the administration will continue to pressure congressional Republicans to pass the president's $447 billion jobs bill, the American Jobs Act, either in its entirety or piece by piece.
In his Las Vegas policy speech, the president will also highlight part of the American Jobs Act called Project Rebuild, which aims to stabilize blighted neighborhoods. Federal money would be used to leverage private capital to hire construction workers, who would rehabilitate homes and businesses.
---