Obama's student loan debt-relief plan: Too good to be true?
President Obama has said he will help ease student loan debt, claiming he doesn't even need Congress to do it. It seems the Education Department has the cash to back him up.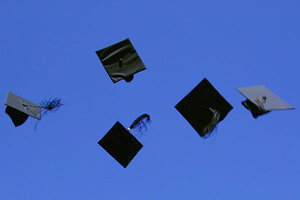 Chris Futcher / Design Pics / Newscom
President Obama on Wednesday is launching a new plan to lower the cost of paying back student loans for millions of borrowers – the latest installment in his bid to move a jobs agenda that bypasses a gridlocked Congress.
At nearly $1 trillion, federal and private student loans now exceed US credit-card debt, posing a formidable repayment burden for many borrowers at a time of near-double digit unemployment.
The plan, to be implemented by executive authority alone, allows some 1.6 million students to cap their loan payments at 10 percent of their discretionary income starting in 2012. It also forgives the balance of student loans after 20 years of payments. Current law allows students to limit loan payments to 15 percent of income, forgiving debt after 25 years of payments, though few students are aware of this option
In a related move, the US Department of Education, which now administers all federal education loans, is giving borrowers the option of consolidating federal and private loans at reduced rates.
"College graduates are entering one of the toughest job markets in recent memory, and we have a way to help them save money by consolidating their debt and capping their loan payments," said Education Secretary Arne Duncan on a conference call with reporters on Tuesday. "And we can do it at no cost to the taxpayer."
Even before the official rollout of the program at a rally in Denver, House Republicans challenged how the president could move forward without congressional approval.
"The president is about to announce a major change in the program that we have not yet acted on in the Congress," said Rep. Virginia Foxx (R) of North Carolina, who chaired an oversight hearing on Tuesday. "What authority does the department have?"
---