Piece by piece, will Obama's health-care reform law be dismantled?
The administration itself has abandoned a long-term health-care provision for seniors, and the Supreme Court will decide soon whether to take up the law. Critics see beginning of the end for Obama's health-care reforms.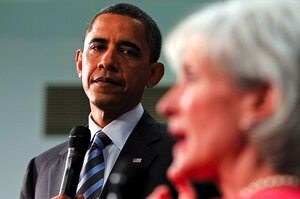 Alex Brandon/AP/File
The landmark health-care reform law – President Obama's signature domestic triumph – has suffered its first major body blow, dealt not by Republican lawmakers intent on dismantling "Obamacare" but by the administration's own Health and Human Services (HHS) Department.
The setback came in mid-October, and it means that a piece of the 2010 Affordable Care Act – a new program intended to help seniors and disabled people afford at-home care – will not be set up after all. The problem? HHS could not see how to make that program, called CLASS, "actuarially sound" for 75 years, as the law required.
The Obama administration's acknowledgment that the CLASS numbers don't add up is only fueling the GOP narrative that the entire health-care law is a boondoggle and won't provide the cost savings to government that Democrats had promised. Indeed, the CLASS (Community Living Assistance Services and Supports) Act was supposed to shrink US deficits by $72.2 billion over 10 years – fully half the $140 billion in deficit reduction the Obama administration claimed for the overall health-care reform law at time of passage.
"Had the whole bill been subject to the accounting and actuarial review that the CLASS Act was, it would not have survived either," says former Sen. Judd Gregg (R) of New Hampshire, who slipped in the pesky actuarial requirement as the CLASS legislation was taking shape.
---