Occupy Wall Street's latest converts: the 1 percent?
A group of wealthy young Americans starts a social-media campaign in support of Occupy Wall Street. Its message: Tax us! But some analysts are skeptical.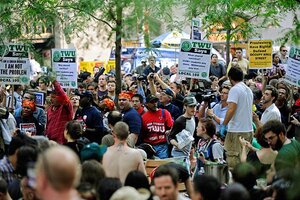 Louis Lanzano/AP/File
The Occupy Wall Street movement is trying to take a page out of Warren Buffett's playbook.
For more than a month, protesters thronging city squares nationwide have aimed their anger at the richest 1 percent of Americans. Now, a group purporting to represent 1 percenters is telling protesters: We're with you.
Just as billionaire investor Mr. Buffett implored President Obama to raise his taxes, an organization of wealthy young Americans called Resource Generation is hitting social media networks with the same message.
"We believe that we have more than we need, while the 99 percent struggles to survive. This has to change. We believe in an equitable distribution of wealth," says a mission statement at the group's website.
On one hand, efforts like those of Resource Generation could help take the "class warfare" edge off the Occupy protests. Video testimonials on the website show earnest young Americans echoing Buffett's sentiments.
"I need government to help redistribute my wealth," says a man in a T-shirt. "Tax me! I am the 1 percent. I stand with the 99 percent."
But because the testimonies are anonymous, some analysts are wary.
"Unless I see names and phone numbers and actual tax returns, I have to be more than a little skeptical," says Lara Brown, a political scientist at Villanova University in Pennsylvania and author of "Jockeying for the American Presidency." "Consider how many people post extravagant blogs anonymously but when asked to put their name on it, suddenly behave differently."
Moreover, a website does not a social movement make, adds Steven Schier, a political scientist at Carleton College in Northfield, Minn.
"This group does exist, but its resources beyond a Web presence have yet to be demonstrated," he says. "Those resources are essential if the group is to have a considerable and lasting presence in the national agenda."
---