Are cracks beginning to form in GOP's bedrock antitax pledge?
With the bipartisan 'super committee' under the gun to cut the deficit, some GOP lawmakers are rethinking parts of the antitax pledge pushed by Grover Norquist's Americans for Tax Reform.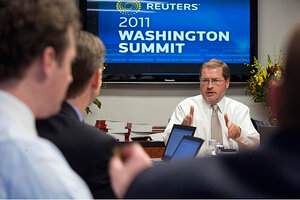 Jonathan Ernst/Reuters
Does signing Grover Norquist's antitax pledge mean a lawmaker is committed for life?
That would be a surprise to Rep. Steve LaTourette (R) of Ohio, who signed the pledge on May 5, 1994, when the national debt was nearing $4.7 trillion. Now, it's closing in on $15 trillion.
"I don't think I ever contemplated in 1994 that I was then bound to indentured servitude for the rest of my career," says the nine-term lawmaker, a longtime ally of Speaker John Boehner of Ohio.
"I thought we could balance the budget in the 1990s, and we did it. But times have changed. We're on track to owe $20 trillion, and to be beholden to some pledge when the future of the country is at stake is kind of silly," he adds.
The antitax pledge has been considered virtually inviolate by Republicans on Capitol Hill for more than two decades, but Representative LaTourette is not alone among Republicans in signaling a changed attitude toward the pledge's strictures at a time of fiscal crisis.
Americans for Tax Reform (ATR), which started soliciting commitments to the pledge in 1986, lists 236 House Republicans and 40 Republican Senators in the 112th Congress as committed to the pledge. That's all but six Republican House members and all but seven GOP senators.
But the ATR website doesn't note when the members signed on or whether they renewed their pledge in the 112th Congress.
"My driver's license expires, the milk in my refrigerator expires, the only thing that doesn't expire is Grover Norquist's pledge – and that's nuts," says Representative LaTourette.
The pledge is on the minds of many GOP lawmakers these days – and a Democrat or two – as Congress's "super committee" struggles to find a plan to cut at least $1.2 trillion from the federal deficit over the next 10 years by a Nov. 23 deadline.
The GOP ban on tax hikes is a key sticking point in the deficit reduction panel's deliberations. The pledge commits signers (1) to oppose any increase in tax rates as well as (2) any cuts to tax breaks, unless "matched dollar for dollar by further reducing tax rates."
---