Cooler heads on Capitol Hill as 'super committee' toils to cut US deficit?
Bipartisan support for Congress's 'super committee' and its deficit-busting work has lately come to the fore. Moreover, some Republicans seem ready to redefine the 'no tax pledge.'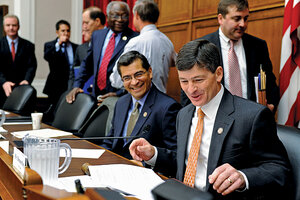 Mike Theiler/Reuters/File
Washington these days is in a state of suspended animation: Everyone is watching and waiting to see if Congress's deficit "super committee" can defy huge odds and come up with a way – by Nov. 23 – to yank the federal balance sheet back from the abyss.
The panel has labored mostly behind closed doors, and the six Republicans and six Democrats serving on it have not divulged much – beyond lamenting how difficult the deficit-reduction task is and how slim their chances of success are.
But just when expectations could hardly get darker ... enter some glimmers of bipartisan hope.
The first comes from 100 House members – 40 Republicans and 60 Democrats. On Nov. 2 they sent a letter urging the super committee to "put all options on the table" to cut deficits by $4 trillion over 10 years. That's akin to the scale of the "grand bargain" that President Obama and House Speaker John Boehner tried, but failed, to achieve over the summer during a showdown over the national debt ceiling – and it's much more than the $1.2 trillion in deficit reduction the panel is mandated to produce.
A second comes from the Senate, where the bipartisan "Gang of Six" senators working on deficit reduction has ballooned to 45. They, too, call for a $4 trillion deficit-reduction deal – one that includes reform of both entitlements and taxes.
Yet another glimmer comes from within Republican ranks. A behind-the-scenes discussion is under way, on and off Capitol Hill, that could clear the way for some GOP lawmakers to agree to close tax loopholes – a move that would raise government revenues – on grounds that cutting these "tax expenditures" will actually reduce the sway of big government and spur economic growth. It's a delicate issue for elected Republicans, almost all of whom have pledged not to raise taxes – and not to end tax breaks, unless the resulting revenue increase is offset dollar for dollar by new tax cuts.
---