Keystone XL pipeline delayed: Does that help Obama?
Keystone XL pipeline critics said it threatened a vital aquifer. The Obama administration agreed Thursday, postponing a decision – probably until after the 2012 election – to look at other routes.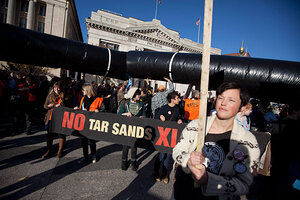 Evan Vucci/AP
The Obama administration announced Thursday that it is delaying the Keystone XL pipeline, a Canadian-backed project that promised to create thousands of American jobs, generate billions in annual state tax revenues, and increase Canadian crude oil imports to America by as much as a quarter billion barrels per year.
Critics said the pipeline's planned route from Canada to the Gulf of Mexico threatened the massive Ogallala aquifer, a vital underground source of drinking and irrigation water that stretches from South Dakota to Texas. They also questioned the State Department's vetting process.
While the project's promised benefits seem to make its eventual go-ahead virtually certain, delaying it would rescue President Obama from having to make a politically difficult decision a year before he stands for reelection.
He faced the unenviable choice of alienating environmentalists or giving ammunition to critics who say he is not doing enough to create US jobs. The State Department will now look for an alternative route for the pipeline across a sensitive portion of Nebraska – a process that is expected to carry beyond the November 2012 elections.
In a statement Thursday, Obama stressed the importance of "strengthening our nation's energy security" while addressing both the environmental and procedural concerns raised by critics.
"Because this permit decision could affect the health and safety of the American people as well as the environment, and because a number of concerns have been raised through a public process, we should take the time to ensure that all questions are properly addressed and all the potential impacts are properly understood," Obama said. "The final decision should be guided by an open, transparent process that is informed by the best available science."
The Keystone XL project is essentially a 1,900-mile extension of an existing Canadian-operated pipeline. The current Keystone pipeline stretches 1,850 miles from Alberta to Illinois and went into operation in 2010. The $7 billion project would create of the largest oil pipeline in North America and was to be completed by 2013.
According to the pipeline operator, TransCanada, the pipeline extension is designed to bring an additional 700,000 barrels per day of crude oil from the tar sands of Alberta, the largest crude reserves in North America, across America's heartland to refineries in Houston and Port Arthur, Texas.
---