Nine days left: Has the debt 'super committee' found the bipartisan middle?
The deficit-reduction 'super committee' has nine days to get the nation's fiscal house in order. The closed-door sessions have produced a surprise – the revival of a nearly defunct bipartisan center.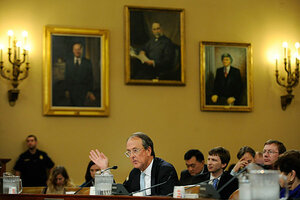 Jonathan Ernst/Reuters
With nine days left for Congress to strike a deal to get the nation's fiscal house in order, success or failure for the 12-member "super committee" are both still plausible outcomes. Congress set a self-imposed deadline of Nov. 23 to come up with a deal.
The panel needs seven votes on a deal to force at least $1.2 trillion in deficit reduction over the next 10 years. Sen. Pat Toomey (R) of Pennsylvania last week broke with his party's anti-tax pledge to propose some $300 billion in new tax revenues. Democrats are said to be on the verge of a counterproposal, as early as today, to include new cuts in entitlement spending likely to offend their party's base.
But succeed or fail, Congress's experiment in high-stakes, closed-door deficit-reduction has already produced a surprise – the revival of a nearly defunct bipartisan center, operating outside the strict party lines that have defined congressional politics for the last 20 years.
Over weeks of discussion, some 45 senators and 102 House members – Republicans and Democrats – broke party lines to back calls for the super committee to "go big" and to put all elements on the table: tax hikes and entitlement cuts, as well as spending cuts.
Breaking party lines is rare on Capitol Hill. For Senators and House members to work together is rarer still. At a rally in the Capitol Tuesday, these lawmakers aim to signal bipartisan, bicameral support for a big deal that takes political risks.
The center, once a force on Capitol Hill, has been decimated by recent election cycles, especially in the House. Moderate Republicans all but disappeared, and fiscally conservative Blue Dog Democrats saw their ranks cut in half in the 2008 elections. But fears that the Congress is no longer capable of getting its fiscal house in order have driven lawmakers on both sides of the aisle – and in both the House and Senate – to try to break the gridlock by working across the aisle.
---
Follow Stories Like This
Get the Monitor stories you care about delivered to your inbox.