Eight days left: Was super committee a bad idea from the start?
As the Nov. 23 deadline to propose a plan to trim $1.2 trillion from the federal deficit approaches, many in Congress are saying that that super committee should never have been created.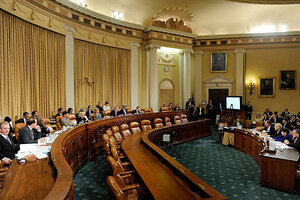 Jonathan Ernst/Reuters/File
On Aug. 2, with the nation on the brink of its first-ever default on the national debt, the option of punting the tough decisions to a "super committee" with a fixed deadline seemed like a good way out. But now, just eight days out, many lawmakers are signaling buyers' remorse.
For some, it's the fact that the committee has conducted its work almost entirely in secret, but for the occasional unconfirmed leak. For others, it's the prospect of cuts to signature programs – or tax hikes – with no further say for Congress, other than an up-or-down vote.
By law, the joint deficit reduction committee must report to Congress by Nov. 23, and both the House and Senate must take the plan to a simple majority vote, without possibility of amendment or filibuster. If the panel fails to produce a plan or Congress fails to pass it or the president fails to sign it, $1.2 trillion in automatic spending cuts take effect in 2013.
"It was a bad idea from the start," says Rep. Rush Holt (D) of New Jersey, a member of the Progressive Caucus. "Congress should never have relinquished its powers to a committee."
"A lot of my constituents are saying: I sure hope they fail, because whatever they come up with is going to be awful," he adds. "Now the interesting thing is that if they fail, what comes up is awful, too. The whole thing is as disastrous formulation that won't work will if it succeeds and won't work well if it fails."
In a bid to gets its issues on the super committee agenda, the Progressive Caucus held its own ad hoc hearing on Wednesday to focus attention on the need to invest in job creation. "For this nation to succeed, the super committee must fail," said witness Bob Borosage, president of the Institute for America's Future.
"We ought to be having a fierce argument about how to create jobs," he adds. "Instead, the super committee is pushing austerity. This is simply folly."
---