Why Republicans are doing an about-face on tough Alabama immigration law
The tough Alabama anti-illegal immigration law has created a whirlwind of 'unintended consequences' that key Republicans now vow to fix. Bottom line, says Sen. Gerald Dial, 'We're not hateful and mean.'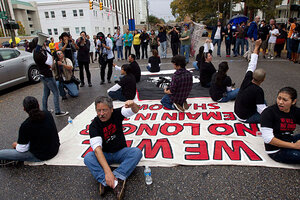 Dave Martin/AP
Acknowledging a growing list of unintended consequences stemming from the implementation of the nation's toughest anti-illegal immigration law, key Alabama Republicans are gathering ideas for how to tweak the legislation to make it less onerous on Alabamans and less dehumanizing for illegal immigrants.
News of the about-face comes as 13 protesters, some of them illegal immigrants risking deportation, were arrested in Montgomery on Tuesday in an attempt to bring attention to a law that has sparked fear and trepidation among some Hispanic immigrants, even as it's been applauded by national groups working for tougher immigration enforcement.
The architect of the law, Sen. Scott Beason, once said the state needed to "empty the clip" on illegal immigration in order to reduce state expenditures and return jobs to legal US citizens. But as the full impact of HB 56 sinks in, Republican leaders in the Senate are realizing the law – a centerpiece in the national immigration debate – needs a major overhaul.
The ultimate unintended consequence of HB56, says one key Republican, is that it opens Alabama up for criticism that it's reverting to the kind of overt racism that marked the state's response to the civil rights movement in the 1960s.
"There are things in the law we just didn't see," says Sen. Gerald Dial (R), of Lineville, who is part of a team of lawmakers working on a do-over of HB56. "Every time I see a major news clip of dogs attacking protesters in Birmingham [from the civil rights era], even though we're way beyond that, this bill drags us back into that hole. It's opened up a window that we didn't need. I'm a big enough guy to say I made a mistake and that I'll do everything I can do to correct it."
---