Energy secretary, grilled over Solyndra, says politics played no part in loan
Energy Secretary Chu testified in Congress Thursday for nearly four hours. He took responsibility for extending loan guarantees to the now-bankrupt Solyndra, but said his actions were strictly legal.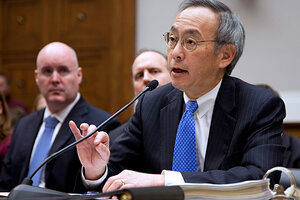 Evan Vucci/AP
Energy Secretary Steven Chu defended himself Thursday before a congressional oversight panel, saying he and his staff had never attempted to extend loan guarantees to the now-bankrupt solar power company Solyndra for political reasons.
Testifying under oath for nearly four hours, Mr. Chu responded to prosecutorial-style questioning by Republicans on the panel, stating repeatedly that he had in all cases followed legal requirements for extending $535 million in federal loan guarantees to the company.
"I want to be clear: Over the course of Solyndra's loan guarantee, I did not make any decision based on political decisions," Chu said in what was his first appearance before Congress to answer questions on Solyndra, a solar panel manufacturer that went bankrupt in August.
When it came to extending the initial loan guarantee – as well as an even more controversial later decision to subordinate, or put taxpayers second in line behind private investors in recovering funds in the event of a default – Chu said the reason was the same.
"The final decisions on Solyndra were mine, and I made them with the best interest of the taxpayer in mind," he said in his prepared opening remarks. "I did not make any decision based on political considerations."
In his testimony, Dr. Chu emphasized several points:
• Hindsight is 20/20. Solyndra was highly rated by Massachusetts Institute of Technology and Wall Street Journal analysts as well as savvy private investors who, Chu reminded the committee, invested a billion dollars in Solyndra and also lost their money.
---