Occupy Wall Street at two months: Hundreds arrested across US
Two days after Occupy Wall Street lost its tent compound at Zuccotti Park, protesters held a national 'day of action.' A mostly peaceful day followed a failed morning effort to delay NYSE trading.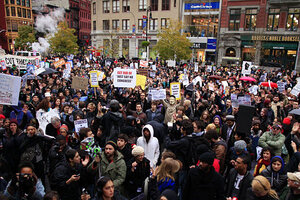 Eduardo Munoz/Reuters
Thousands of Occupy protesters took to the streets of cities across the United States Thursday, and hundreds were arrested after scuffles with police.
The national "day of action" marked two months since the creation of the movement and took place two days after New York City police evicted Occupy Wall Street from its longtime Manhattan base, a tent compound in Zuccotti Park.
More than half the day's arrests were made in New York where, after failing to delay trading on the New York Stock Exchange in the morning and demonstrating throughout the damp day, a swelling crowd of thousands of Occupy Wall Street sympathizers marched on a cold windy evening to the Brooklyn Bridge.
Bridges were targeted in other US cities as well, including Boston, Detroit, and Miami, Reuters reported, with protesters issuing a specific demand from the government that is a rarity for Occupy movement events: increased infrastructure spending to create jobs. Other cities that saw significant protests included Los Angeles, Washington, Las Vegas, and Portland, Ore.
---