Balanced budget amendment falls 23 votes short in House
The House's bid to pass a balanced budget amendment failed to get the two-thirds majority it needed to proceed. All but four Republicans voted to make federal deficits unconstitutional.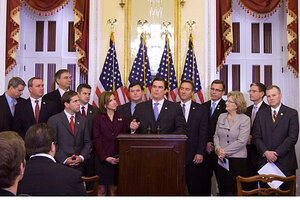 Harry Hamburg/AP
A Republican-led effort to pass a balanced budget amendment to the US Constitution failed to win the needed two-thirds House majority, dealing a setback to advocates of aggressive fiscal reform.
Their goal was to make fiscal responsibility a constitutional mandate.

The vote Friday ran largely along party lines, with 261 supporters including 25 Democrats and all but four Republicans. That's 23 votes short of the amount needed to move the amendment forward.
---