Absent a super committee, now who'll lean on Congress to cut US deficit?
Global markets or deadlines for extending tax breaks may yet force Congress to try again for a 'grand bargain' to shrink the US deficit. But big action before the 2012 election is unlikely.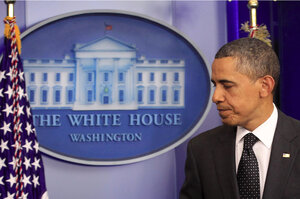 Kevin Lamarque/Reuters
Conceived in crisis, Congress's deficit-reduction "super committee" fizzled, without cutting a dime.
With the exception of a brief break in GOP ranks over opposition to tax hikes, the two parties remain deeply entrenched in old positions – and apparently see no reason to change, until after the 2012 elections.
But the enormity of America's fiscal crisis and two toxic political deadlines – the expiration of the Bush tax cuts and the onset of draconian automatic spending cuts – could give Congress the leverage for another shot at a grand bargain over taxes and spending.
In a sense, every tax and spending decision from now through the 2012 election is a setup for that rare moment of political opportunity. But aside from the political calendar is the constant threat that financial markets may move faster, forcing Congress to react under the gun of a deeper crisis.
How we got here
Raising the national debt limit has always been a tough sell, especially for the party holding the White House. But this time, a new GOP House majority drew a line in the sand: No debt-limit increase without spending cuts of equal magnitude – and no tax hikes.
The standoff, which took the nation to the brink of default on Aug. 2, threatened "fiscal Armageddon," the White House said. Wall Street trembled. In the end, Congress and the White House agreed to raise the debt limit, including the creation of a joint congressional panel to come up with at least $1.2 trillion in additional deficit reduction – or, failing that, automatic spending cuts of the same magnitude in 2013.
---