Illegal immigration: Are Obama deportations truly aimed at 'criminals'?
US says it deported a record 216,000 'criminal aliens' in fiscal 2011, but immigration court statistics show a drop in criminal deportation proceedings from the Bush years. How do those square?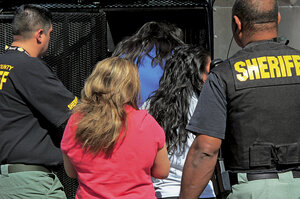 Michael Brannock/AP
Immigration attorney Matthew Kolken is openly questioning the forthrightness of the Obama administration these days.
He knows the Obama administration is in a tough spot. Congress is refusing to take up immigration reform, and the president is being squeezed between Republicans who claim he is soft on border crossers and Hispanics who say he has not done enough to resolve the status of longtime illegal immigrants.
Yet it is the administration's response that has left Mr. Kolken suggesting that the government "is not being truthful." Immigration officials say they are cutting a "common sense" middle path – ramping up deportations of criminal illegal immigrants but also granting prosecutors discretion to have compassion on law-abiding illegal workers who have close ties to the United States.
Statistics from an independent clearinghouse for federal data, however, appear to contradict some of the government's claims. Moreover, the Transactional Records Access Clearinghouse (TRAC) at Syracuse University in New York says the administration has been hesitant to release details behind a record 400,000 deportations in the past year.
---