Payroll tax cut: why Republicans might back Obama's plan (VIDEO)
President Obama has hit the road to lobby for his plan to extend and expand this year's payroll tax cut 'holiday.' Though concerns remain, Republicans worry that Obama is gaining traction.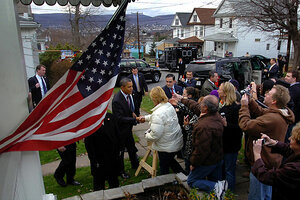 Butch Comegys/Scranton Times & Tribune/AP
In a deeply divided Congress already fixated on the 2012 elections, common ground doesn't come easy. But the White House bid to extend and expand the payroll tax cut is emerging as an exception to this pattern of gridlock.
With President Obama fully engaged in selling his $250 billion payroll tax plan in campaign stops across the country, GOP congressional leaders worry that he is beginning to get traction with voters.
In closed caucus meetings this week, House Speaker John Boehner (R) of Ohio and Senate Republican leader Mitch McConnell of Kentucky cautioned conservatives that bucking what appears to be a tax cut may not be a battle worth fighting for Republicans.
But concerns remain on both the left and right. The cuts will be offset by a proposed surtax on the wealthy, meaning the plan is not a true tax cut, conservatives say. Meanwhile, liberals see the president's plan – which specifically targets the Social Security payroll tax – as one that could undermine the federal safety net in the long run.
Still, Mr. Obama sees the situation tilting in his favor.
---