Occupy Wall Street, Act II: Go local
With many encampments razed or in jeopardy, Occupy Wall Street needs a second act. For now, many activists are settling on issues of concern to local residents. Will that weaken the movement, or strengthen it?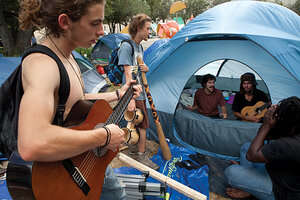 Melanie Stetson Freeman/Staff
As their encampments are razed, or as their tent cities dwindle with the onset of cold weather, the "Occupy Wall Street" movement – now almost three months old – needs a second act. And organizers of this grass-roots movement, which asserts that "the 99 percent" of Americans who are not Wall Street bankers, hotel chain heiresses, or real estate titans are getting a raw deal these days, appear to have lit upon an answer, for now: Go local.
So it is that the Occupiers in Knoxville, Tenn., plan to start occupying foreclosed homes, to dramatize banks' actions. In Detroit, protesters are collecting provisions for the city's neediest. And in Los Angeles, Occupy activists are readying for a Dec. 12 action to close the Port of Los Angeles for a day – part of a larger call for port closings from Tacoma, Wash., to San Diego to protest perceived union-busting tactics against organized longshore workers.
The question is whether Occupy forces are scattering their fire in so many directions that the movement will inevitably fragment and dissolve, or whether they will grow in strength and accomplishments by proving former House Speaker "Tip" O'Neill's famous pronouncement that, in the end, "all politics is local."
---