How Occupy's anti-foreclosure drive could sink the movement
Protesting in public spaces is protected speech. But occupying homes and lots to protest foreclosures, while dramatic, could result in many lawsuits, robbing Occupy of money and momentum.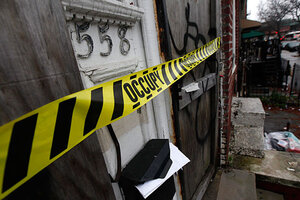 Mike Segar/Reuters
The Occupy movement's national call to action Tuesday – occupying foreclosed homes in at least 20 cities from New York to Los Angeles – seems guaranteed to expand the legal tussles that have dogged Occupy almost since its inception.
First Amendment speech is clearly protected in public places, legal experts say, but laws about the right to protest on private property are much less forgiving, meaning the new Occupy action will court a much harsher response from legal authorities.
For activists, the tactic is a powerful way to take on banks, which are unfairly foreclosing on homeowners, they say. But a ramping up of legal action against Occupy could sap the movement of money and energy, some experts say, and potentially alienate Americans by casting the protesters as law-breakers.
"You can speak your mind on a public sidewalk or roadway in front of a person's home," says Timothy Zick, a law professor at the College of William and Mary in Williamsburg, Va. "But you don't have the right to do so on their property."
Scuffles with the law have followed the Occupy Wall Street movement almost from its inception, when some 700 New York protesters were arrested on the Brooklyn Bridge in September. Since then, as tent encampments have been razed and arrests have multiplied, legal challenges have steadily mounted on both sides, with lawyers for the activists filing temporary restraining orders and mayors ordering police crackdowns.
---