Payroll tax cut: proposals galore but consensus eludes
Congressional lawmakers in both parties offer assurances that the break Americans now enjoy on the payroll tax will be extended before it expires Dec. 31. But getting to 'done' is proving to be another tough row to hoe.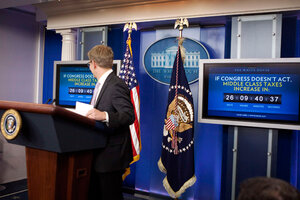 Joshua Roberts/Reuters
The Obama White House, in its own version of the New Year's Eve countdown in Times Square, has added a banner to its website – a clock ticking down the seconds to when taxes on the middle class will rise "if Congress doesn't act."
That tax hit is the 2 percent payroll tax cut now set to expire at midnight, Dec. 31. If Congress fails to at least extend that tax cut, the Social Security tax rate for employees jumps back to 6.2 percent, up from 4.2 percent. If that happens, the average American taxpayer stands to lose about $1,000 in 2012.
Leaders on both sides of the political aisle in Congress offer assurances that by year's end the tax break will be extended. As lawmakers head into an election year, the stakes are simply too high to kick that can down the road. But GOP leaders, especially, are running up against strong opposition from the rank-and-file on anything that looks like caving on pledges to reduce deficits, dramatically cut spending, and reject all tax increases (which are an issue in this case because Democrats propose to pay for extending the payroll tax by a tax hike on millionaires.
In a stunning Senate vote last week, Republican leader Mitch McConnell of Kentucky lost more than half of his caucus over a $120 billion GOP proposal to pay for extending the payroll tax cuts by cutting the federal workforce and requiring people with higher incomes to pay more for Medicare.
On the House side, GOP leaders are expected to unveil a new proposal for extending the payroll tax cut and other expiring measures at a closed caucus meeting on Thursday. House leaders want to extend both the payroll tax cut and unemployment insurance, as well as to block mandated cuts in reimbursement rates to physicians serving Medicare patients, the so-called doc fix that Congress has approved for each of the past eight years. All are set to expire on Dec. 31.
---