Jon Corzine downfall: Even after 2008, banking sector has untamed risks. (VIDEO)
Former CEO Jon Corzine testified before Congress on the bankruptcy of investment firm MF Global. Its swift collapse in late October recalled events leading to the financial crisis of 2008.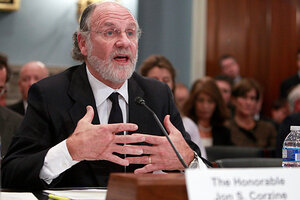 Charles Dharapak/AP
As financial power-broker Jon Corzine testified to Congress Thursday, the big theme regarding the eighth-largest bankruptcy in US history was "I don't know."
Mr. Corzine, former CEO of the investment firm MF Global, said he doesn't know "where the money is" that went missing from customer accounts. Regulators and attorneys said they're still trying to learn what happened to it. Members of Congress, for their part, struggled to understand complexities surrounding how MF Global was regulated, how it failed on Oct. 31, and how some $1.2 billion went missing from the firm's customer accounts in the process.
But beyond all the unknowns, the hearing convened by a House panel appeared to give a clear signal on one important point: Major levels of risk remain in the financial industry despite the chastening impact of the financial crisis of 2008.
"It appears to me that no one has learned a thing; that Wall Street is operating as if 2008 never happened," Rep. Collin Peterson (D) of Minnesota said in his opening statement at the hearing.
MF Global's downfall came swiftly, ensnaring Corzine, a CEO who was well-known as a former governor and US senator from New Jersey, and as a former chairman of Goldman Sachs.
---