New wild card in Congress's fight over payroll tax: an oil pipeline
House Republicans offer their plan for extending the payroll tax cut for US workers. A sweetener to get conservatives on board: the Keystone XL oil pipeline, which Obama wants to delay.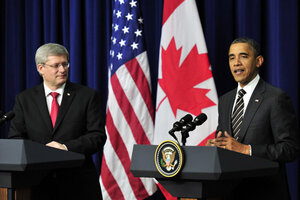 Paul Chiasson/The Canadian Press/AP
President Obama last month moved the proposed Keystone XL oil pipeline to the bottom of his agenda. This week House Republicans took action to move it back to the top.
The pipeline project, which would connect the tar sands of Canada to oil refineries in Texas, has stirred controversy in some host states, mainly over environmental concerns. Mr. Obama was to decide this month whether to approve it, but the timetable was pushed back a year – after the 2012 election, some note – to study a possible new pipeline route.
Now Republicans on Capitol Hill are trying to make the pipeline a card to play in their negotiations with Mr. Obama and Democrats over tax policy.
For weeks, Congress has been gridlocked over what to do about expiring tax cuts. Lawmakers have proposed and counterproposed bills that will retain workers' payroll tax "holiday" for another year, as well as extend unemployment benefits. But the two parties remain far apart on how to do that without adding billions of dollars to the federal deficit.
Democrats appeared to be winning the public-relations war, though Republican leaders have insisted they do not want to let the tax holiday – worth about $1,000 to the average family – expire on Dec. 31. If Congress doesn't act, the employee payroll tax jumps back to 6.2 percent, up from a 4.2 percent this year.
---