Democrats' tough choice: shut down government or swallow GOP's bills
GOP-led House has approved a payroll tax cut for workers in 2012 and is poised to vote on an omnibus spending bill for this fiscal year. Democrats want changes to both, but they appear to have lost much leverage.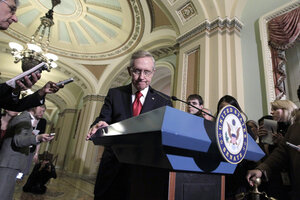 J. Scott Applewhite/AP
As Washington braces for a possible government shutdown, House Republicans are racing toward a Friday vote on a $1 trillion omnibus spending bill. But make no mistake: This is political hardball, fast and furious.
The 1,219-page bill, if also approved by the Senate and signed by President Obama, would avert a government shutdown after Friday, when a stop-gap measure for fiscal year 2012 spending, which began Oct. 1, runs out.
The snap vote also gives House Republicans a way out of town, leaving a gridlocked Senate and a president facing reelection in 11 months to accept this spending bill – and its controversial policy riders – or to shut out the lights.
Winning a spending vote on Friday would also give House Republicans more leverage in negotiations with the Senate over extending a payroll tax cut that would benefit 160 million workers. The GOP-led House on Tuesday passed a bill that Senate majority leader Harry Reid (D) has declared "dead on arrival" in the Senate – and that Mr. Obama has already pledged to veto. Democrats don't like how the bill would pay for extending the payroll tax cut through 2012, nor an oil pipeline project attached to the legislation.
Here's the advantage to the GOP strategy: Once House members leave Washington for recess, and hence are not available for future votes, the heat is on the Senate to accept the House version of the fiscal 2012 omnibus spending bill. A darkened House also leaves the Senate with no option for extending the Social Security payroll tax cuts but to approve the House-passed version, which blocks key environmental regulations, forces an early decision on an oil pipeline that the White House had put off, and avoids raising taxes on the highest-income Americans.
---