Congress to vote on $1 trillion bill to fund government 9 more months
The House and Senate are set to vote Friday on a huge omnibus bill to fund government for the rest of fiscal 2012. Unemployment insurance and payroll tax cut are still up in the air.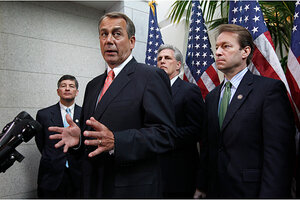 J. Scott Applewhite/AP
Congress appears to have averted an imminent government shutdown, striking a $1 trillion deal to fund the federal government through next September.
Both the House and Senate are expected to vote on the giant spending bill on Friday, ahead of the midnight deadline when stop-gap funding for government operations runs out.
But congressional leaders and the White House are still laboring over a plan to extend payroll tax cuts and long-term unemployment insurance, set to expire on Dec. 31. All sides say they want to reach a deal on these measures, but they split on partisan lines over how to pay for it.
Republicans say the pay-for must be spending cuts. President Obama and Democrats say the highest-income Americans, or top 1 percent, must shoulder higher tax rates to help reduce the deficit. Lawmakers are working Friday to try to reach agreement on a two-month extension of these benefits for workers, before they head home for the holiday recess. A Senate vote is likely Saturday morning.
As for the huge omnibus spending bill, Democrats and Republicans had settled back in August the toughest issue in any budget cycle – the bottom line for spending. The remaining sticking points were the policy riders – congressional mandates aimed at forcing a presidential administration to adopt positions it otherwise would oppose.
These included reining in environmental regulations, chopping funding for green energy loans, halting new light-bulb efficiency standards, banning federal or local funding for abortions in the District of Columbia, faster approval for new offshore energy production, and reinstating Bush-era limits on travel to Cuba and remissions to relatives in Cuba, to name a few.
---