Why John Boehner can still win the tax-cut showdown
House Speaker John Boehner stunned Senate Democrats and Republicans when he said the House would vote down their two-month deal on the payroll tax cut and other measures.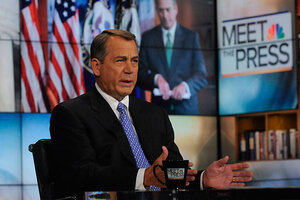 William B. Plowman/NBC News/AP
With the clock ticking down to a payroll tax hike for 160 million Americans on Jan. 1, Congress is headed into a standoff that leaves House Republicans increasingly isolated on Capitol Hill.
Speaker John Boehner stunned both Democrats and GOP colleagues when he announced on Sunday that a two-month deal that passed the Senate with a whopping 89-to-10 majority was going nowhere in the House.
"Americans are tired of Washington's short-term fixes and gimmicks, which are creating uncertainty for job creators at a time when millions of Americans are out of work," he said, at a press briefing on Monday.
"I think it's time for the Senate Democrat leaders to follow the president's example, put their vacations on hold and work in a bipartisan manner to finish the nation's business."
The GOP-controlled House is expected to vote to reject the Senate bill Monday evening, despite strong support from GOP senators. That leaves Congress with two alternatives: get House and Senate negotiators back to the table to resolve differences in a formal Senate-House conference – or allow the payroll tax break and other popular measures to expire.
On a conference call with Speaker Boehner on Saturday, GOP conservatives refused to back the Senate bill. "Members expressed their opinions that we had a good piece of legislation and what the Senate sent back wasn't," says Rep. Jim Jordan (R) of Ohio, who chairs the Republican Study Committee, the conservative wing of the House GOP caucus. "That message came through loud and clear."
---