In payroll tax battle, GOP shows cracks under Democratic pressure
Democrats are ramping up the pressure on House Republicans over their refusal to pass a payroll tax deal – and some Senate Republicans are not rushing to their colleagues' aid.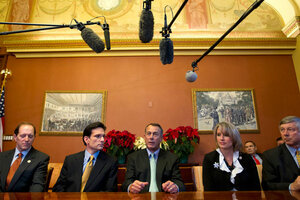 Evan Vucci/AP
After a year of clashes on Capitol Hill over trillion-dollar deficits, 40 is suddenly the biggest number in congressional politics, as Democrats and House Republicans clash over a payroll-tax cut and other measures set to expire on Jan. 1.
Forty dollars is the average drop that some 160 million Americans will see in their paychecks, if Congress doesn't act.
A White House call for responses to what a $40 tax hike means to families produced thousands of tweets in just 24 hours. Replies included: "nearly a tank of gas," "feeding my family for three nights," "two months of vet care," "co-pay for prescription drugs," and "default on my mortgage, so I can feed my son."
With just 10 days before the payroll tax "holiday" and other measures expire, the cost to American families of gridlock as usual on Capitol Hill is immediate and personal. Democrats and the White House are counting on public outrage to force Speaker John Boehner – and the tea-party backed conservatives who pushed GOP leaders to take on this fight – to cave.
"The average Republican House member is going to hear from their constituents, and the pressure to come back and pass our bill is just going to increase," said Sen. Charles Schumer (D) of New York in a conference call with reporters on Wednesday.
"If it's really a one-year deal you want, so do we," he added. "We will be the first ones on a plane to work out a one-year deal but on one condition: First pass the Senate's two-month agreement, then we can negotiate right away and maybe have the whole thing done by New Years."
---